Charlton Arts
The highlight of the Charlton Arts calendar is the annual Film Festival which takes place each February in Charlton's Rex Theatre. Newly renovated, this beautiful art deco theatre is the perfect venue to screen some of the years more interesting films. Attracting people from all over the state, it's a must for film buffs and those wanting to enjoy watching a film in the sumptuous atmosphere of the Rex Theatre.
In recent years, Charlton Arts has also presented a series of live shows as part of the Café Culture Series toured by Mary Souness. This terrific program brings a range of live entertainment to regional towns and Charlton has been spoilt with some fantastic entertainment including jazz, blues, classical and folk music, magic, cabaret and circus acts. We are fortunate to be able to present this program again in 2015 and look forward to the entertainment Mary has in store for us.
In an effort to acknowledge some of Charlton's promising young talent, Charlton Arts awards a number of youth scholarships each year to encourage and reward excellence in music and visual art. Supporting the youth in our town in their musical and artistic endeavours is of great importance to our group and Charlton Arts is delighted to assist them with our Scholarship Program.
Image: In-Between Artist Residency & Exhibition, Charlton, 2014. Photo by artist - Robbie Rowlands. www.robbierowlands.com.au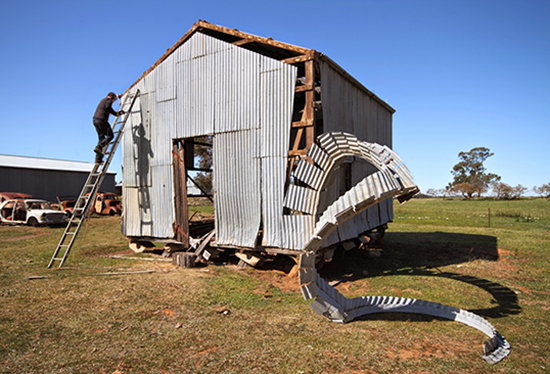 About Our Member
---
Member Type: group
Location: Charlton
Art Form: