Fresh & Salty
As a response to regional Victorians being severely impacted by drought, Regional Arts Victoria initiated five projects across Victoria through its state wide Regional Arts Development Officer network in a major project, Fresh & Salty.
This project demonstrated the role that art and artists can play in providing positive opportunities for communities to express their concerns and enhance understanding of how environmental issues have influenced and supported our way of life. RAV's RADOs consulted their communities and managed the local projects in partnership with regional artists and community organisations.  Artists collaborated or were teamed with mentors to extend their practice.
Though each project was artistically diverse, they all explored local water issues, cultivated new community networks and created cultural development opportunities for regional communities.
The Fresh & Salty project spread accross five different project locations in the Wimmera, Wellington Shire, South West Victoria, Ballarat and the Golden Plains Shire and involved the following artists:
Dave Jones; Mary French; Hannah French; Gillian Swanson; Cameron Robbins; Vicki Couzens; Carmel Wallace; Michael Shiell; Billy Blackall; Peter Blizzard; Julie Collins and Derek John. Artistic Advisor, Donna Jackson.
Regional Arts Victoria's Regional Arts Development Officer network were also critical to the management of projects in these areas.
For more information on Fresh & Salty please download the Fresh and Salty Flyer (3.77M) or read more about the projects in Groundwork Issue # 7 (1.28M).
View the project presentation from the Fresh & Salty project presentation at the RAA Art At The Heart Conference, Alice Springs 2008 (14.8M)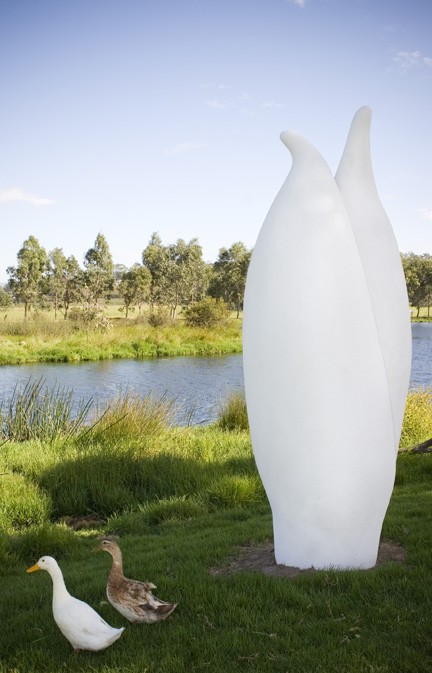 Sero by Gillian Swanson as part of the Fresh & Salty Project. Picture by Bindi Cole
Aerial Shot of the Platypus on the dry bed of Lake Wendouree, Ballarat..  Artists: Michael Shiell and Billy Blackall.  Image by Bindi Cole.
Stone Wall completed in South West Victoria.  Pictured (l to r): artists Carmel Wallace and Vicki Couzens. Image by Bindi Cole.
'Ship of Fools - Ship of Hope', completed in the Golden Plains Shire.  Lead Artists: Julie Collins and Derek John. Image by Bindi Cole.
Still from Fresh and Salty Animation in the Wimmera. Artists: Dave Jones, Mary French & Hannah French.